Beauty: Achieved.
Before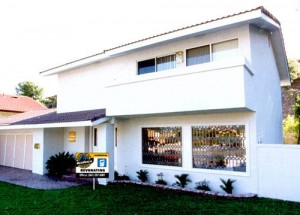 After
Home Painting – a professional work of art… There are paint jobs… then there are real paint jobs. The kind of paint job that Boulder Builders does. Whether you live in  Santa Clarita, Pasadena, Glendale, Studio City, or Santa Monica, a Boulder Builders paint job incorporates a system of three crucial components – preparation, appropriate paint selection and proper application. Miss one stage and sooner or later your paint job is going to fail. A Boulder Builders professional paint job guarantees a beautiful long-lasting painted surface.
Preparation of a soon to be painted surface is probably one of the most important components of a good paint job. Skimp on the preparation (like some painting contractors do) and you could have a disaster on your hands, as old paint lifts under new paint and turns your newly painted surface into a nightmare. No short cuts on a Boulder Builders paint job and not an ounce of paint leaves the can until the surface is ready.
The finished project – a real Boulder Builders paint job that is guaranteed to last for years. Proper preparation, the right paint for the surface and climate, combined with professional application and the best paint tools and applicators. All done by a professional painter with years of experience. It's just what the paint doctor ordered.
Beautiful.