Kitchen Remodeling for your Pasadena Home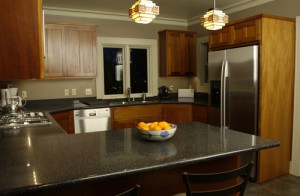 Everybody knows one of the most important rooms in the house is the kitchen. Our meals are prepared there and many special hours with the family happen there. Most people prefer to have a large kitchen with lots of room to work in. That's why when we talk about remodeling homes, it's usually the kitchen that comes to mind first.
A lot of people thumb through magazines or watch TV shows to get their design ideas. Today's modern homemakers want smart kitchens that can give them ability to get things done quicker so they can handle the hectic lifestyles they have. When it comes time to put your ideas to the task you could find that a remodel contractor can be a very handy asset.
If you are around Pasadena, California, you'll find that Boulder Builders, Inc. is an excellent choice. We are licensed and insured, fully bonded, and have over 50 years of experience under their belt. We know all the ins and outs of construction and renovation. We are experts in commercial construction, trade construction, and home improvement. We boast of having some of the finest, highly-trained company project managers around.
We are confident in our ability to meet your design desires and help you keep your remodeling project within budget. Boulder has given their services to the likes of Sports Chalet, Barnes & Noble, Jiffy Lube, Petco, and Wells Fargo out around the Southern California area. We are very experienced in areas of renovations and new custom home construction.
Pasadena has a vast array of charming old historic homes. We believe it's critical that the designs and values of these homes be preserved. Even though renovations are done with the latest updated equipment, the old vintage decor is something they want to hang onto. That means hiring a contractor that totally understands that. Boulder Builders gives you the experience and know-how that helps to maintain the historic value of these beautiful testaments of days gone by, while also creating a kitchen that has top quality craftsmanship.
Here at Boulder we utilizes a 3-step system that is proven to succeed. It involves the proper planning, financial management, and construction work that will ensure things are done right, of highest quality, and within your budget.
If you decided to use us for your remodeling project, we would set up a meeting to discuss your kitchen ideas and help to figure the absolute best way to give you what you want without going over-budget. We discuss every last detail with you, from their work schedule and site evaluations, to what materials will be the best. We understand that on any project everything should be put in writing and signed and sealed with a guarantee. That makes for a smooth operating project.
We will make sure to finish the job on time and within budget. If you are considering a kitchen remodeling project of your own, why not make use of the best? Then you can be confident of having the kitchen you've been dreaming of.